"With a refreshingly honest and open approach, the Velo team bring an abundance of creativity, energy and professionalism to the table you just don't get with others."
JA, Partner Marketing Manager, EMEA, Cisco Services
Client background
With over 70,000 employees around the world, Cisco technology has been powering the internet since 1984. We've been working with this global technology titan as its agency of choice since 2011.
We work primarily with the software and services divisions and their teams across EMEAR, the Americas and APAC.
Velo has supported the Cisco team across marketing, communications and creative activities since the agency's inception.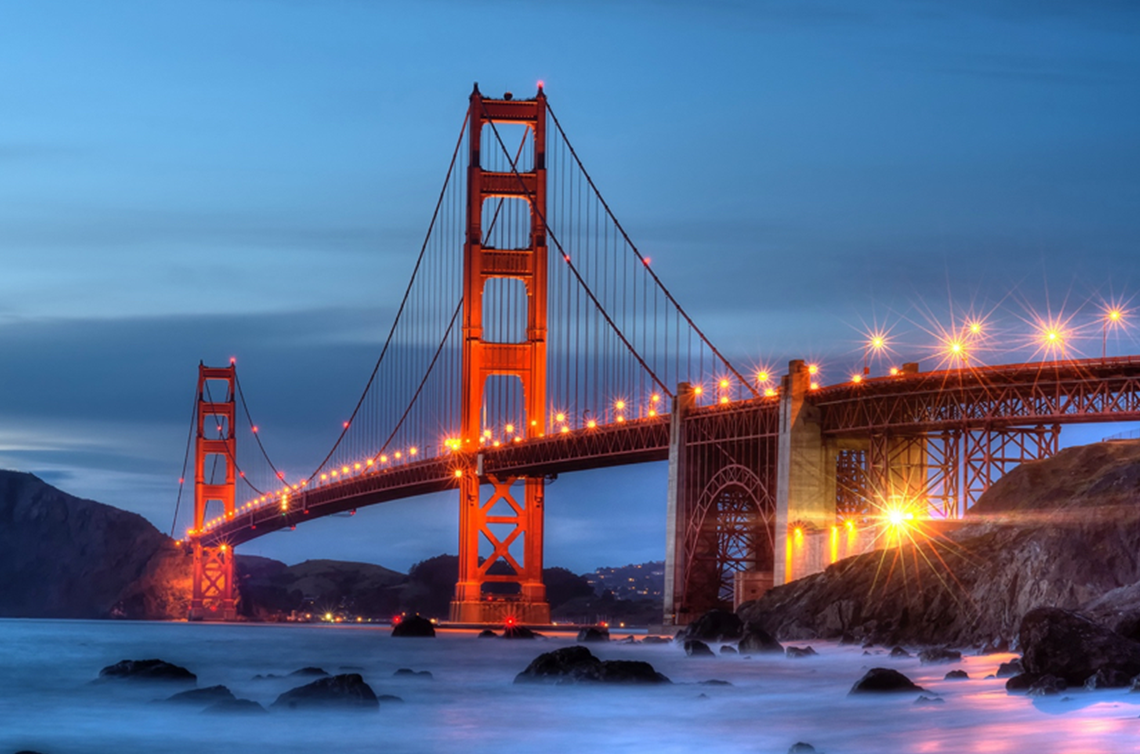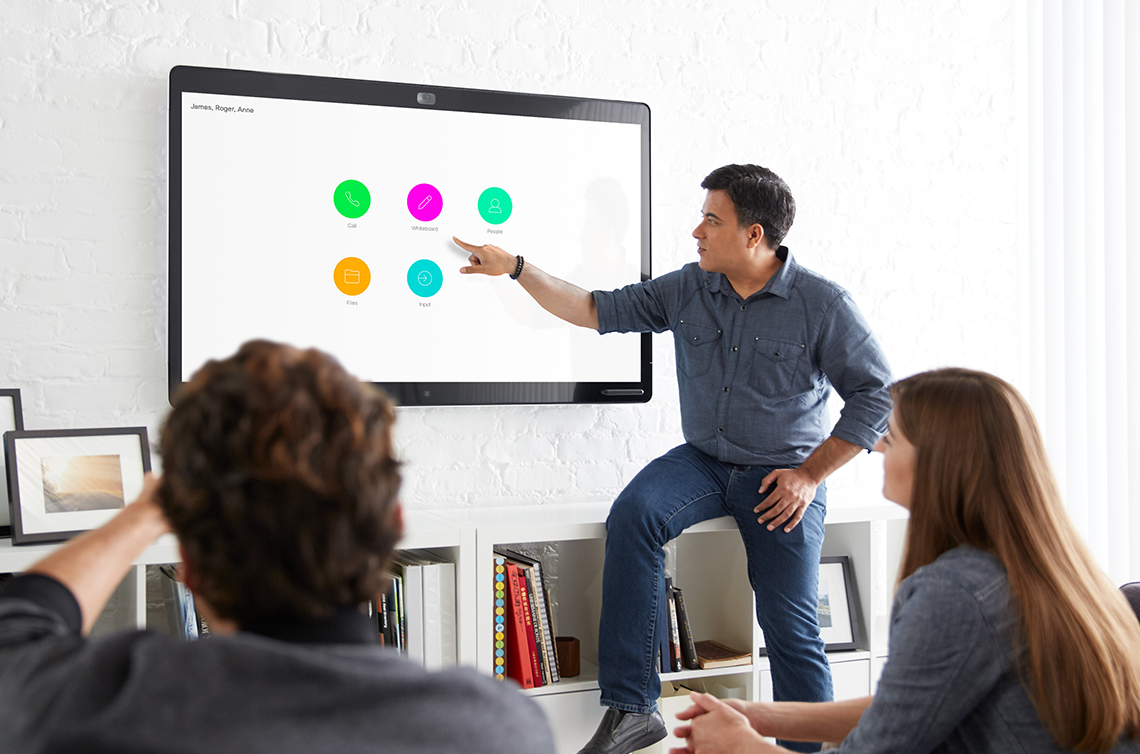 Challenges
Like many international IT businesses, Cisco operates a channel model. This means the company's B2B marketing must engage and influence customers directly and its global workforce, but also a huge partner and distributor channel who influence customer decision-making.
As a business, Cisco is increasingly focused on software and services to drive recurring revenues. To achieve this, marketing initiatives focus on customer success and customer experience as part of the core strategy. This is a considerable change for a business founded on hardware.
Partnership approach
We work in partnership with many Cisco teams, often working with up to 100 different Cisco contacts each week across our projects. There's isn't a day that goes by without someone on Webex Teams, talking through a project with a Cisco colleague. But we're only considered an extension of their team because we add value at each stage.
Each team leans on our full-service capabilities to plan and execute marketing communications and campaigns that make a difference.
Acting as an internal team makes it easy for Cisco to work with us. We fully understand Cisco's strategy and challenges and use our expert partner knowledge to ensure every decision has the right impact.
We make every interaction count – from stakeholder management to brand knowledge to using Cisco's tools and understanding the storytelling that works for its global audiences.
With a multi-national company like Cisco, employee turnover is commonplace, so we're adept at integrating with new members of the team, demonstrating our credentials as an agency that endures.
Insight & marketing planning
Campaigns & activation
Branding & Visual Identity
Creative & copy
Video & photography
Full stack development
Insight & marketing planning
Our frameworks unlock insights within this complex organisation so that we can plan high-impact work. This includes: Data-driven analysis of channel partners to develop go-to-market plans particularly for Cisco's Icebreaker program, Planning and activating the EMEAR customer success program, Messaging development to resonate with partners, distributors, customers and internal staff including launching Cisco's Energy Management Suite across EMEAR, Comms planning levering marketing automation platforms including Eloqua and Unica, Localisation and activation of Cisco global campaigns within EMEAR.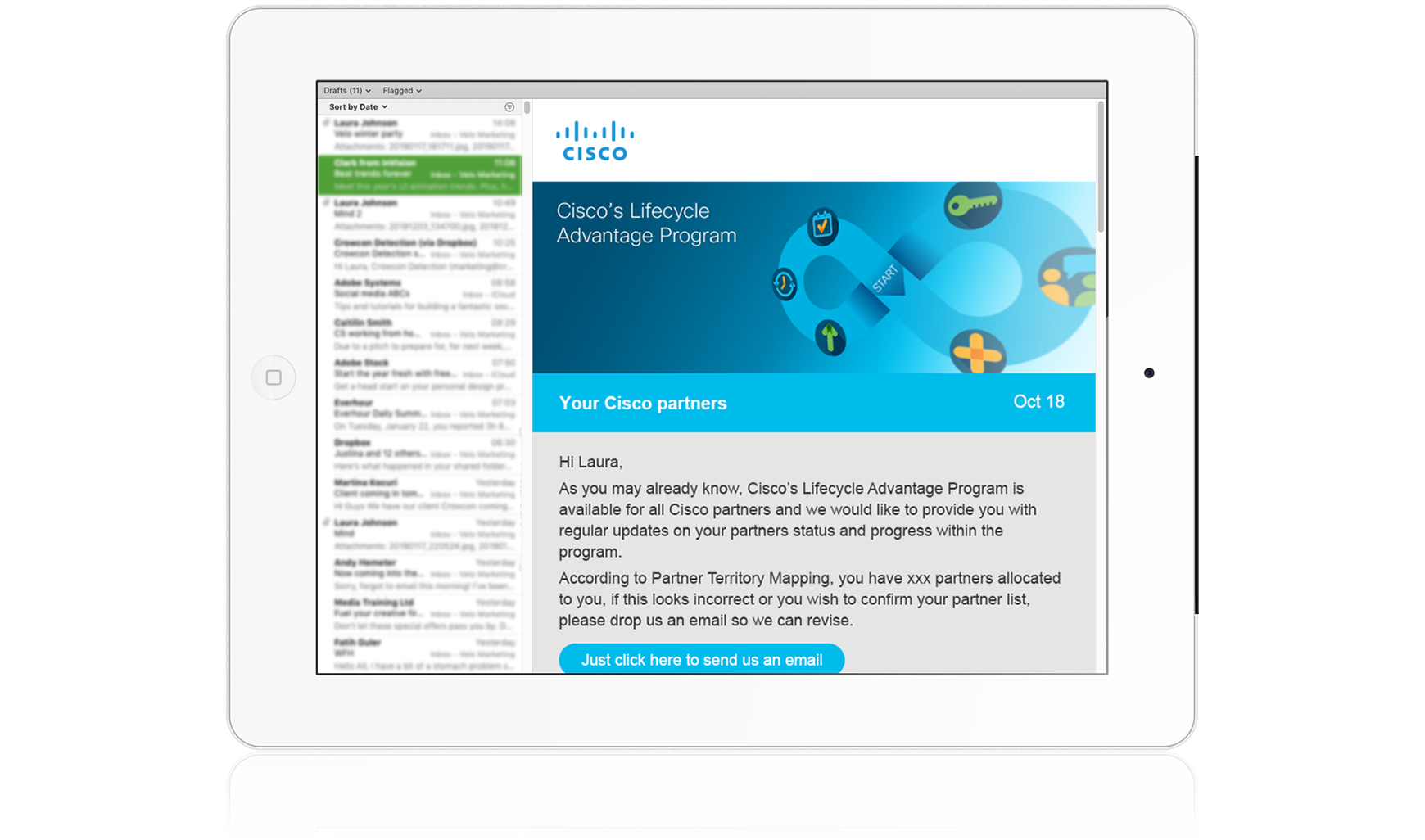 Campaigns & activation
Reaching partners, distributors, customers and staff, our campaigns fall into three areas: Demand Generation Campaign Bursts Using techniques including paid media, ABM campaigns and "campaign in a box" assets for partner deployment. Nurturing Supporting the customer experience activity around software and services with tailored and relevant content using high impact video and automated email. Always On Using evergreen content and microsites to explain programs and drive a continual flow of leads for programs as well as high impact customer success videos and content.
Branding & Visual Identity
Being creative within brand guidelines is not an easy task, but one we've been doing since 2011. We've introduced new initiates such as all creative treatments for Cisco's Digital Festival and Icebreaker program where a distinct identity has been formed, without compromising any brand considerations.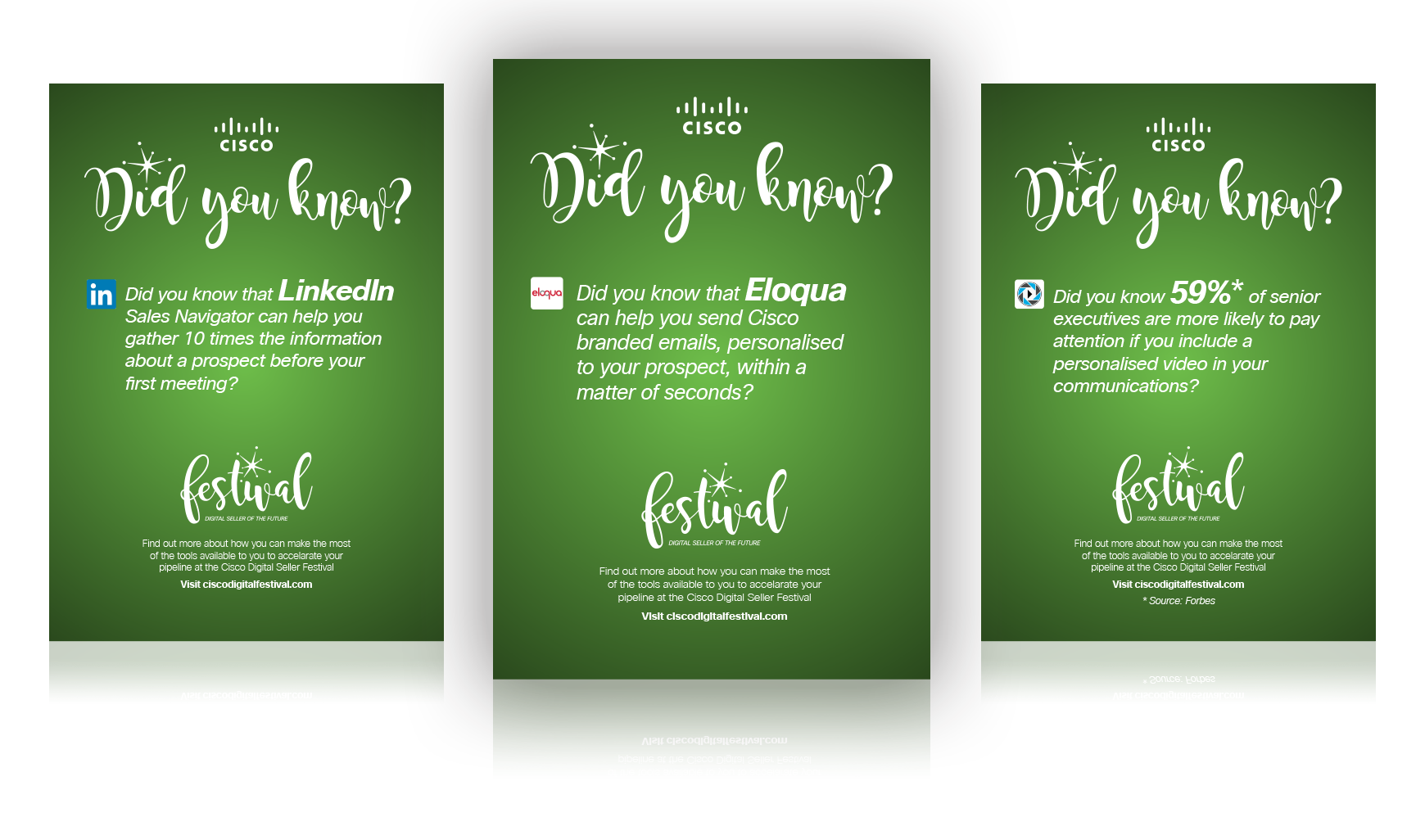 Creative & copy
From technical writing to distilling complicated propositions into accessible English, our team match the format and style to the audience and purpose. Knowing the Cisco brand intimately, our team regularly produces Playbooks, Email, Powerpoint elevator pitches, Microsites, Social content, Brochures.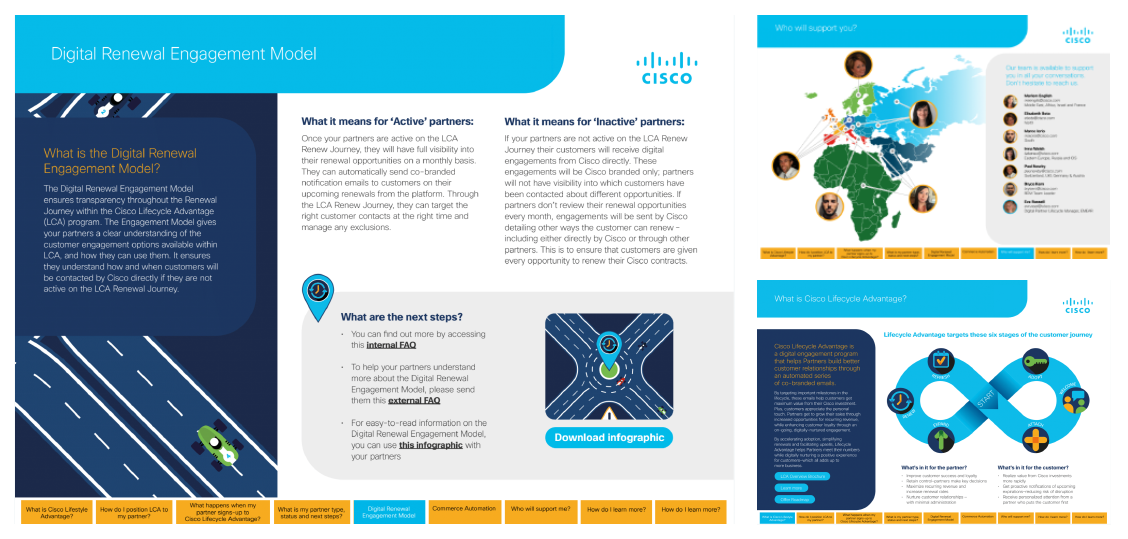 Video & photography
With more and more research into b2b purchases being made online without any interaction with a person, video has never been more important. Motion graphics led explainers and "how-to" demonstration videos, in multiple languages, Personalised videos for individuals within ABM campaigns, Sales support videos for high-level meetings, Customer success stories that explain problems, solutions and outcomes.
Full stack development
Such a large global brand has many established web platforms that offer flexibility and creativity if you know how to use them. Tactical microsites that provide focused customer journeys to channel visitors to rake specific actions such as for Cisco's Icebreaker Program, Providing coded content for intranet pages to share new propositions with a global workforce, Applications used on touchscreen units at events, Email and landing page design and build in multiple languages deployed through marketing automation tools.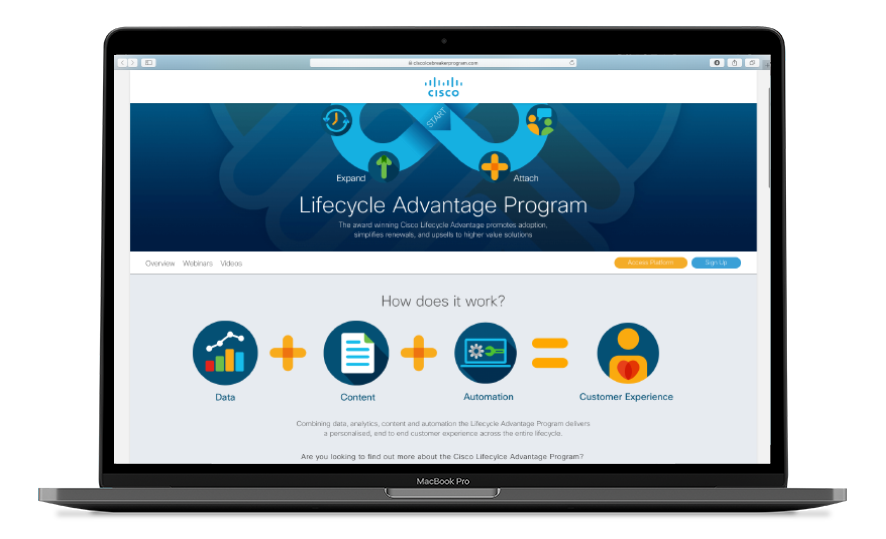 Highlights so far
We drove £2m in pipeline in just six weeks with our Cisco Technical Knowledge campaign targeting less than 50 contacts. We conceived and executed numerous tactical campaigns using ABM techniques.
The Customer Success videos we produce in-house have been featured at every annual Cisco Live & Cisco Partner Summit for three consecutive years.
Chuck Robbins, Cisco CEO has used sales support content we've produced, including videos and presentations.
We managed the Cisco Customer Success programme in EMEAR to build compelling stories that helped Cisco's software and services sales team. This included producing messaging, video and written case studies.
We developed all the marketing materials for the Cisco Services' Icebreaker program to generate leads. This included emails, templates, newsletters and communications.
We produced all the marketing campaign material for Cisco Lifecycle Advantage and managed the execution of communications across EMEAR. This was an award-winning customer experience program.